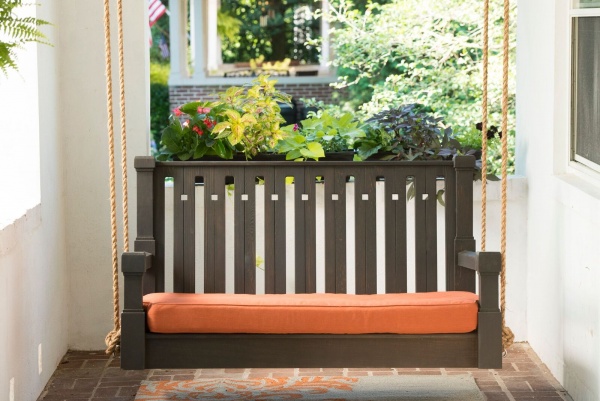 Nostalgic Porch Swings Cushions are made to withstand all types of weather and custom built to fit your swing. The deep seated design of a Nostalgic Porch Swing provides a sofa style comfort. Each seat cushion is designed to fit snugly under the swing's arms so it won't move or shift. Another great thing is that the seat cushion is reversible so you can simply flip your cushion over to a fresh side as needed. Select from our standard 30+ Sunbrella fabric choices or send us your own material of choice (*COM). Our seat cushions are made with polyfiber plush fill that is designed to not retain water and resists mildew. Batting is added to the top and bottom of the plush fill and an exterior grade hidden zipper runs along the back side of the cushion. Seat cushion dimensions are 28.5" deep x 4" thick x your choice of swing length.
*COM - Customer's Own Material. Please contact us directly for the number of yards needed to upholster your seat cushion (based on the size of your cushion and the fabric pattern) and for pricing.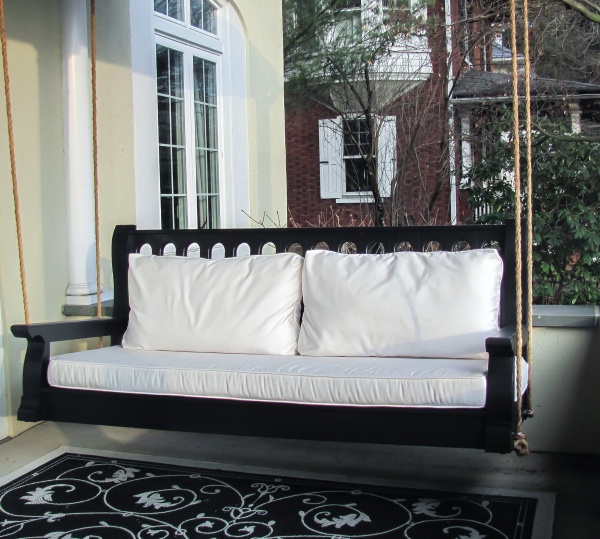 For optimal comfort, we also offer double back cushions. Made of out of all weather resistant materials, each back cushion is 5" thick x 18" tall and filled with Plush Fill that you can sink back into. The Plush Fill consists of loose poly fiber in the center, wrapped in 2 oz. poly fiber batting, enclosed in a shell, upholstered in your choice of fabric, and has a hidden zipper.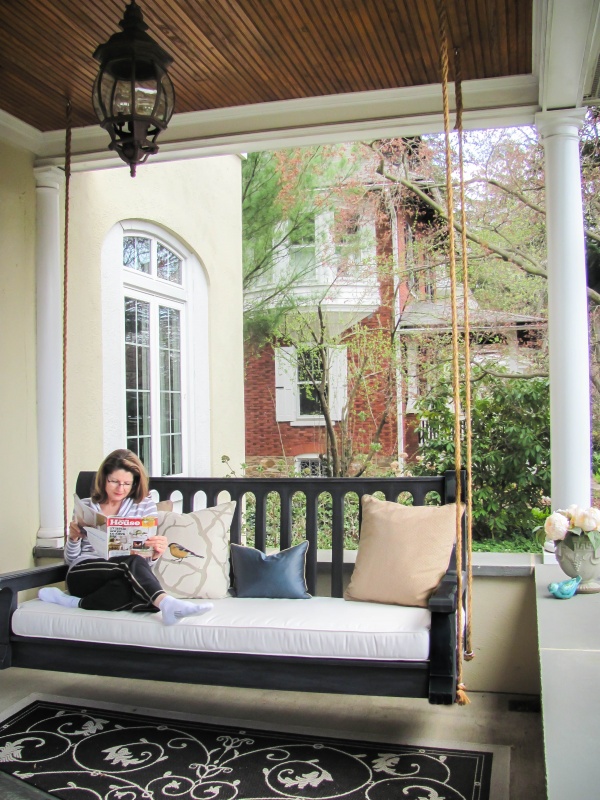 We offer 2 types of rope to choose from for hanging your Nostalgic Porch Swing. Natural Manila rope is the standard rope offered with Nostalgic Porch Swings. It is made out of natural fiber and is a popular rope choice because it has low stretch and is resistant to abrasion. This rope is approved for outdoor use but performs best under covered porches. However, natural manila rope will weather overtime and may darken in color after exposure to moisture.
Synthetic Manila is a polypropylene rope made to resemble natural manila rope. We offer synthetic manila rope in tan (which looks the most like natural manila rope), black, or white. This is the perfect alternative rope for applications in very humid climates or areas that will get wet. Synthetic Manila has a clean, attractive appearance, and is smoother to the touch than natural manila. This rope is approved for outdoor use.
Available in both the 2-pt and 4-pt swing hanging methods.